h. nazan ışık—
2 April 2017—
Continued from AIPAD 2017: Bigger and….(Part 1)
I couldn't finish seeing all the galleries yesterday at AIPAD. Today, I decided to see something different, not so sharp, not so focused images but to look for some ambiguity, sensitivity.
My eyes went to 2 images on the wall; the one on the right was just footsteps on a beach. I stopped. Then I saw two ladies with wine glasses in hand looking at me. I approached.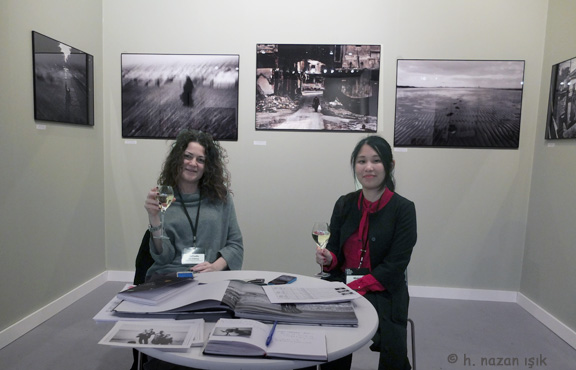 © h. nazan ışık
Raffaella De Chirico Contemporary Art owner Raffaella De Chirico (left) explained: "It is "Footsteps of refugees along the seafront of Calais, France 2016" by Fabio Bucciarelli from his "The Dream" book."
There was a postcard on the table by the same photographer.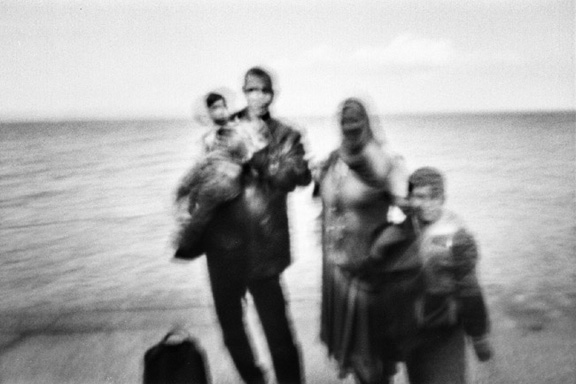 "The Syrian family, Lesbos, Greece 2015" by Fabio Bucciarelli from his "The Dream" book. Courtesy of Raffaella De Chirico Contemporary Art.
These were some refugee pictures, hard to tell who they were, where they were, what was happening. Pictures were taken with pinhole camera, and very dreamy they were.
I carried on, and at Nailya Alexander Gallery, again, some dreamy or ghostly images caught my eyes.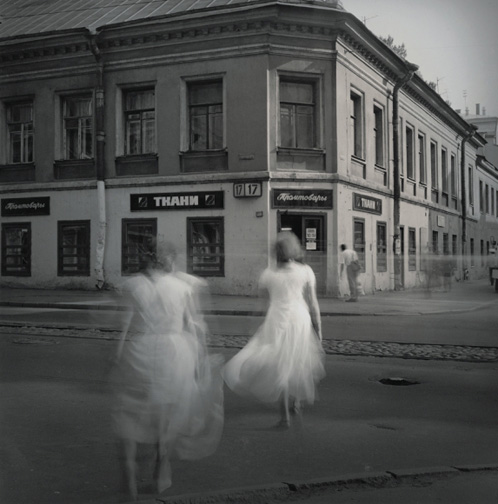 "White Dresses, St. Petersburg, 1995" by Alexey Titarenco," Courtesy of Nailya Alexander Gallery.
There were 3 images by Alexey Titarenco, at AIPAD. But more images from the same photographer can be seen in "Alexey Titarenco: The City is a Novel" exhibition at Nailya Alexander Gallery until May 20 2017..
While walking from one gallery to another my eyes went to a worker watching visitors.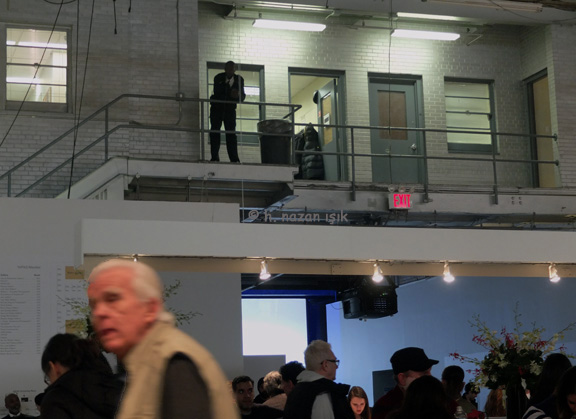 © h, nazan ışık
And, that made me pay more attention to what else was happening.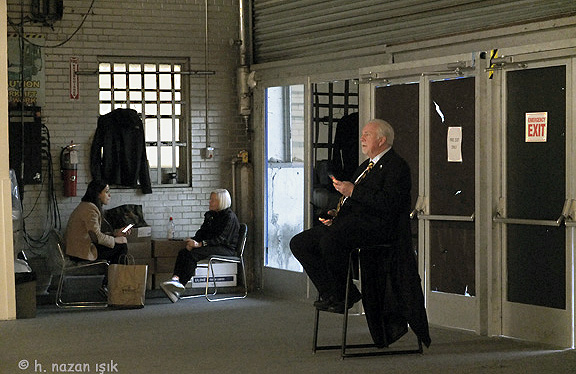 © h. nazan ışık
A security personnel on duty.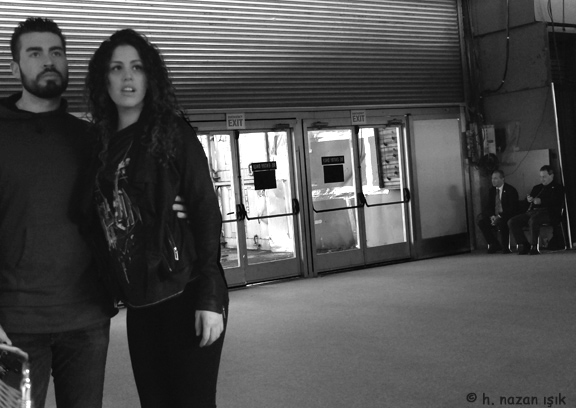 © h. nazan ışık
While two security personnels at work, a couple was looking at something, I couldn't tell what.
I turned. Here it was, digital video on 96 x 96 in. | 244 x 244 cm LED panel.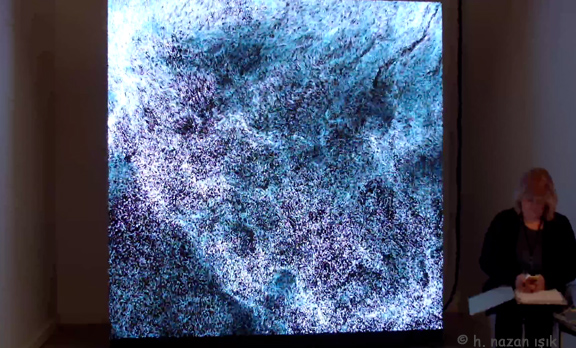 © h. nazan ışık
"Digital Wave I, 2017" by Clifford Ross at Ryan Lee Gallery.
The label read :" 'Digital Waves', Ross's newest body of work, are computer generated renderings of waves displayed on high resulation LED panels…."
If you love ocean, water, sea, wave, it was beautiful to watch.
To be contiued…
Photos (unless otherwisei ndicated) © h. nazan ışık / NKENdiKEN
© h. nazan ışık