h. nazan ışık—
2 July 2017—
"There are no specific, credible threats against the July 4th celebration or the city," Police Commissioner James O'Neill said on Friday at a press conference regarding Fourth of July Security.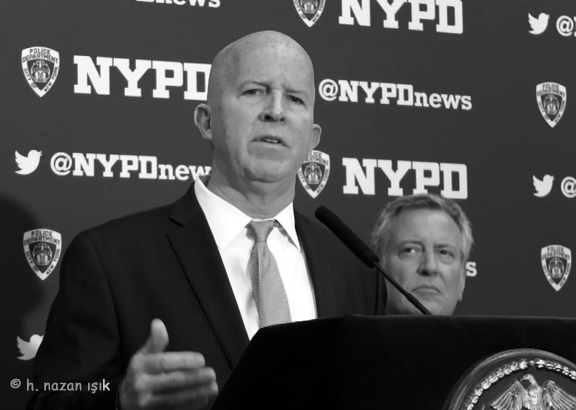 © h. nazan ışık
Police Commissioner James O'Neill and Mayor Bill de Blasio at police headquarters at a press conference.
But if you are planning to watch the Macy's Fireworks show from fireworks viewing spots in Manhattan get ready to see nearly 120 sand-filled trucks and "blocker vehicles" near viewing spots.
NYPD Chief of Department Carlos Gomez said this is the first year trucks will be deployed at the Macy's celebration.
This is not it. Well-armed police officers with long guns, some officers with radiation detectors for bag searches. "Several thousand" cops in uniform at checkpoints, and a good amount of officers in civilian clothes will be within spectators.
"Spectators should not be afraid or concerned by their presence." New York Mayor Bill de Blasio said. "See this as a good thing," he said. "That's what keeps us safe."
This year there will be five barges located on the East River between 24th and 41st Streets.
Remember: No back packs, no large bags, no umbrellas, no alcohol are allowed.
Photo © h. nazan ışık / NKENdiKEN