h. nazan ışık—
25 August 2017—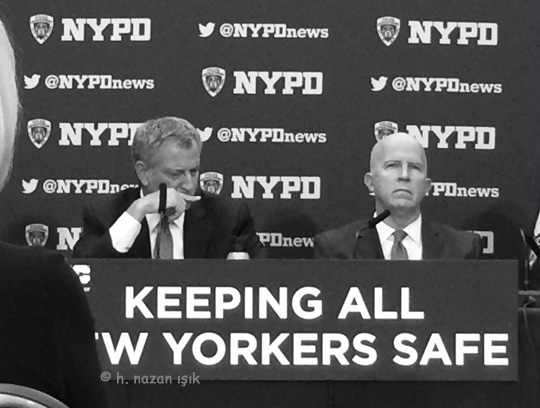 © h. nazan ışık
Mayor Bill de Blasio and Police Commissioner James P. O'Neill at a press conference at the Brooklyn Public Library regarding new security plan for upcoming J'Ouvert parade.
Every year Labor Day weekend has two traditional cultural celebrations in central Brooklyn: The Annual West Indian American Day Parade and the J'ouvert parade preceding it.
At a press conference regarding new security measures for J'Ouvert celebration Mayor Bill de Blasio: "We're going to have a very different plan for the J'Ouvert celebration this year." said.
J'Ouvert parade, a daybreak celebration which marks the start of Caribbean Carnival, every year started at 4:00 am. But not this year! This year celebration starts at 6:00 am.
Mayor de Blasio: "Last year, as everyone knows, we attempted a series of major changes and a tremendous amount more police presence and additional resources, and yet we did not get the result we sought. Lives were lost and that's unacceptable to all of us."
And he reminded that the vast majority of people come to J'Ouvert to celebrate peacefully, to honor their traditions and their culture, "And that is what we should focus on but we have known in the past, there have been some bad apples and some people have caused real pain and real damage."
Let's remember what happened last year, last 2 years.
In 2015, during J'Ouvert celebration lawyer Carey Gabay, who was an aide to Gov. Andrew Cuomo, was shot in the head and killed, and 24-year-old Denentro Josiah was fatally stabbed.
And last year, in 2016, during the festivities despite the 200 light towers in place, instead of the 40 used in 2015, additional 42 security cameras and more police presence, four people were shot. 17-year -old Tyreke Borel and Tiarah Poyau, 22, were killed. Two people injured.
Mayor de Blasio, "So, we're going to have a very different plan for the J'Ouvert celebration this year. In fact, you're going to see the same kind of measures that we take (in Times Square) on New Year's Eve to create a much more orderly and controlled situation," said.
Chief of Patrol Terry Monahan, NYPD, said: "Similar to New Year's Eve, Empire (Boulevard) from Flatbush (Avenue) down to Nostrand (Avenue), Nostrand from Empire to Midwood (Street) is going to be a frozen zone. At 11 o'clock that evening, we are going to freeze that area."
There will be 12 checkpoints for revelers to enter through one.
There will be magnetometers searching for weapons.
No large bags, no backpacks, no alcohol will be allowed.
At 6 o'clock in the morning the first group will start marching down the blocks.
Chief Monahan, "Yeah, again, exactly like New Year's Eve – no large bags, no backpacks, any alcohol will be confiscated, and, obviously, if you're coming in with a gun or a firearm, you're going to be arrested. And increased police presence, more lighting, a lot more cameras that are going to be up, so if anything does happen we will be able to catch it, " said.
"The NYPD will be out in force with a zero tolerance attitude towards anything that might endanger other people," said Mayor de Blasio.
"Police officers are going to have discretion to enforce the quality of life that night. And it's important; it's for everybody not only to be safe but to feel safe too," Commissioner O'Neill added.
We'll see ….
The J'Ouvert parade takes place on September 4, beginning at 6:00 o'clock in the morning on Flatbush Avenue between Grand Army Plaza and Empire Boulevard.
Photo: © h. nazan ışık /NKENdiKEN
© h. nazan ışık