h.nazan ışık—
19 September 2017—
19 September 2017, today is the first day of the UN General Assembly Debate (19 September- September 2017). The UN area is under very tight security. First Avenue, some streets are blocked, unless one lives or works around there.
Dag Hammarskjold Plaza is open for protesters.
I saw different messages. Amount them are "LGBTQ", "Save the Children", "Colonization is Crime, Free Porto Rico", "Black Lives Matter", "Falun Dafa" and some African countries protesting their leaders.
None was very big, all small groups it was.
I was watching a child playing with his balloon, enjoying the dance of the balloon with the light wind.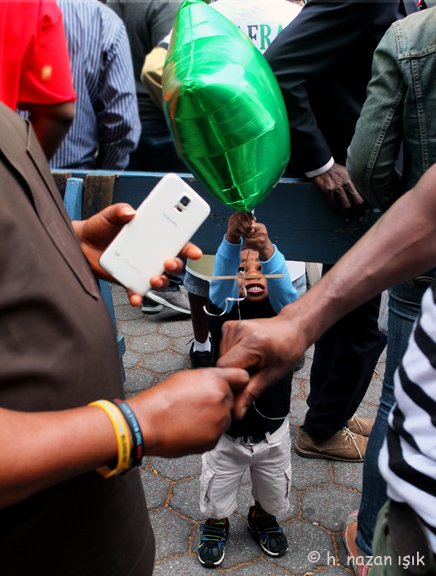 © h. nazan ışık
"Peace, friendship, joy, happiness, hope" this is what I felt, how I felt when I saw this moment, this frame. Two friends are greeting, the boy is playing wit joy.
"The hope of the youth, of the FUTURE" I call it.
Photo: © h. nazan ışık /NKENdiKEN
© h. nazan ışık